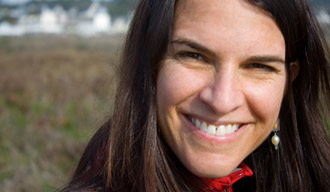 Kathryn Kefauver Goldberg
I'm a Berkeley writer, originally from Bethesda, Maryland, who's traveled, biked, and trekked my way around vast parts of the world, with long stints in Laos, China, and Australia, Santa Cruz, and San Francisco, California.
My vegetarianism began when Coleman McCarthy, a Washington Post columnist, came to my high school to teach a class called "Peace Studies." I was sixteen, and my mother agreed to buy a substance called tofu as I announced I would no longer eat meat.
I maintained my vegetarian stance through the nutritional wasteland of Michigan dorm cafeterias and then mastered the art of stir-fried vegetables with roommates. When I moved to Asia in my late twenties, I fell off the vegetarian wagon, oftentimes to avoid offending my hosts, as they offered local delicacies like duck embryos and blood pudding. I happily took up vegetarianism when I returned to California, launching what I think of as my nuts and berries phase, through which I almost inadvertently ate a raw-food diet through sheer laziness—green salads, tofu sandwiches and yes, bowls of cashew, raspberry and raisins.
Since then I have slowly been learning the art of applying heat to food—discovering these things called "recipes" that map it all out. My friend Linda introduced me to the pressure cooker with a ceramic pot inside, and this has changed my life, giving me the courage to also use a Cuisinart and most recently a Breville juicer.
I still like to keep it simple: quinoa with lettuce, tofu and diced avocado; pita sandwiches with mustard, lettuce, tofu, and avocado strips; brown rice with cherry tomatoes, and guacamole. I've also branched out into curries with chickpeas, potatoes, carrots, and cauliflower. The latest frontier has been learning to bake—my mother recently showed me how to make pita at home.
Throughout this whole process, the option to dine out has been crucial—through the nuts and berries phase right up through last week. I feel blessed to live in a place like Berkeley, where as someone once said, "It's actually cool to be a poet here." Here is a place where a vegetarian writer can relax and refuel.
—Kathryn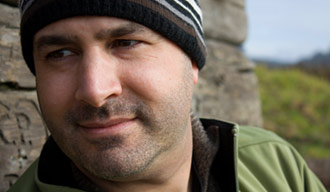 Ken Goldberg
I'm a lifelong vegetarian, an amateur photographer, and a Berkeley, California resident since 1987.
I relish simple, healthy foods, grown with pride in a manner that respects the farmers, the food, and the land. I can be totally satisfied with a single, unadorned piece of artisan bread, preferably Sourdough. I love large Italian cannelini beans on thick toasted bread with olive oil; vegetarian gyoza, fried just a little bit to toast the roll; melt in your mouth Szechuan eggplant; a big bowl of vegetarian chili in Winter; chana masala, hummus, falafel, and, basically anything made with ceci (garbanzo) beans; Inarizushi with seasoned rice inside; thick, orange slices of kabocha, and thin white slices of water chestnut; curried vegetables; lotus root; any kind of taro fritter; and risotto al tartufo.
Beyond the Bay Area, my favorite food destinations are Italy and Kyoto, Japan. Kathryn and I authored the VegJapan Food TravelBlog after our recent trip, my fourth trip to Kyoto.
By day, I'm a physicist at Lawrence Berkeley National Laboratory, using x-ray and ultraviolet beams of light for nanoscience. I lead a fantastic team of scientists and engineers, developing ways to help semiconductor companies create the next generations of memory chips and microprocessors.
I design and code web pages for kicks. That's just how I roll.
—Ken