Search Results:
---
Author: Taste Tester | No Comments
Categories: Great Food, Near and Far | Tags: Tags: Encuentro, Oakland, sustainable, Vegan, wine
Encountering organic and sustainable wines in Oakland
Vegan wines were once seen as a quirky novelty, an esoteric indulgence enjoyed by eternally fastidious vegetarians who somehow taste a gamey edge on a pinot noir from Burgundy, notes of bacon fat from wines extracted from the Syrah grapes of the northern Rhône, and just plain old meatiness from Argentinian malbec wines. Indeed, the very existence of vegan wines might come as an odd surprise for most people; after all, wine is essentially fermented grape juice. Apparently, there are quite a few animal-derived products involved in making wine, specifically in the filtration (or fining) process. As a matter of fact, bull's blood was traditionally used as a fining agent until it was banned by the European Union (EU) after the BSE (bovine spongiform encephalopathy, more commonly known as mad cow disease) crisis. Meanwhile, a number of animal-derived products are still permitted in the winemaking process; some of the most prevalent are isinglass (fish bladders), gelatin, casein (milk protein), and albumen (egg whites).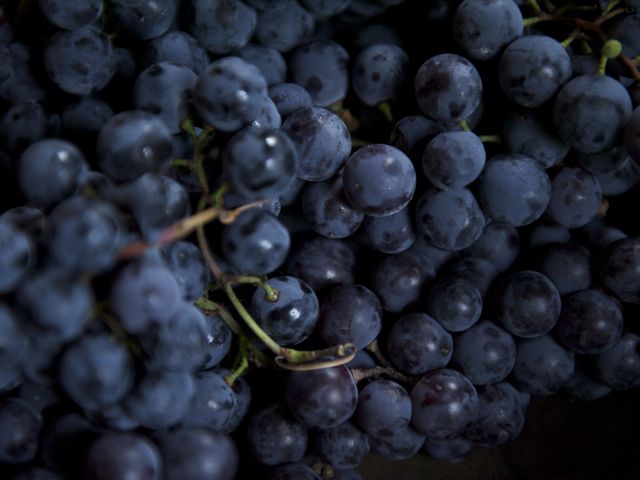 Fortunately, the Oakland vegan food scene is in full bloom, with a diverse variety of restaurants offering vibrant, hearty, and utterly delicious meals with wines made from organic and sustainable practices. That means no added sulfites (also known as sulfur dioxide, a preservative that is widely used in food manufacturing), no genetically modified organisms, and no harmful chemicals such as weed killers, fungicides, and insect repellents. The Encuentro Café and Wine Bar, located at 202 Second Street in Oakland, is one of the first wine bars to exclusively pair vegan and vegetarian food with organically grown and vegan-friendly wines from small, local, and old-world vintners such as like Owen Roe Sharecropper Cabernet Sauvignon, Dashe Dry Creek Zinfandel or Navarro Gewurztraminer. Interestingly enough, sustainability in winemaking has also spilled over to the big leagues. UK-based retail giant Marks and Spencer has also released the first-ever carbon neutral Beaujolais Nouveau, in addition to a 2009 Altos del Condor Sauvignon Gris from the Trapiche Vineyards in Argentina, crafted by the veteran winemaker Daniel Pi.
With a booming vegetarian food and wine community in Oakland, San Francisco, and the rest of the Bay Area, it's encouraging to see a deeper appreciation for vegan wines.
Author: Ken | No Comments
Categories: Near and Far | Tags: Tags: Buddhist, Buddhist vegan Ukiah, JyunKang, Talmage, Ukiah, Vegan
City of 10,000 Buddhas
2001 Talmage Road
Ukiah, CA 95482
Jyun Kang
(707) 462-0939
A vegan restaurant in Ukiah? Don't act so surprised. Ukiah (actually Talmage, just east of town) is home to The City of Ten-Thousand Buddhas, which, according to Wikipedia, "is one of the first Chinese Zen Buddhist temples in the United States, and one of the largest Buddhist communities in the Western Hemisphere."
So we made a special trip on our way home from Mendocino this Winter. (Note that they're closed on Tuesdays, so we missed them on the trip up and ate there on the way back.)
At the end of Talmage Road, we entered the campus through a two-story, ornate yellow gate. We stopped at the administration building on the right to check-in and sign the guestbook.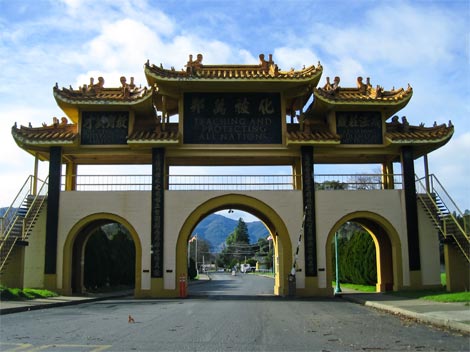 The restaurant is just a two blocks further, past some amazing murals and statues.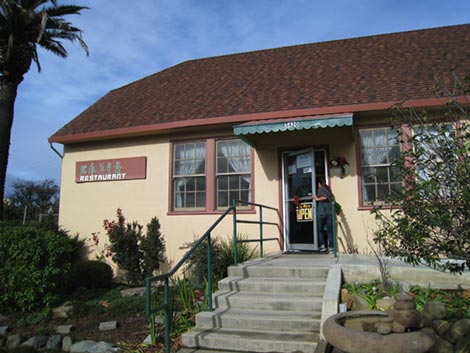 We arrived about 12:40, just before a big rush, and every table was soon full. They have about 50 different things on the menu, there's quite a selection—all vegan.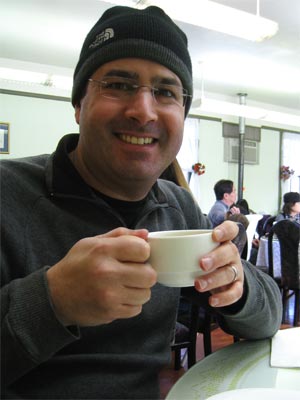 The tea came right away. I'm not an expert, but it tasted like a barley tea, similar to the Korean teas we've had. We decided to sample a few things and order more than we could eat in one sitting. We ended up with. . .
and
Actually the noodles took a long time to come. I think they forgot about us, until K prompted them for our order. They were very apologetic!
The Golden Tofu Seaweed Rollshad a great texture and a really strong seaweed taste. Unscientifically, it was twice as strong as an equivalent sushi roll. I liked it, but K found it a bit too fried for her taste. The carrots and crunchy sprouts were excellent in the plum sauce.
The Japanese Style Noodles were peppery and excellent. Again, I enjoyed this dish more than K did. All of the flavors were different than we're used to, and for me that made it more special. We have sort of a "split decision" on the food, but there were so many things on the menu that looked interesting, I would certainly try it again the next time I'm in Ukiah around lunchtime.
Author: Ken | No Comments
Categories: Berkeley & Albany | Tags: Tags: Berkeley, fastfood, sandwhich, SolanoAve, Vegan, Vegetarian, wraps
1823 Solano Avenue
(At Colusa, next to Peet's Coffee)
Berkeley, CA 94707
Natures-Express.com
(510) 527-5331
Nature's Express is a great new vegan restaurant that recently moved in next to Peet's Coffee at the top of Solano Ave, in Berkeley.
With its modern, clean—almost sterile—interior, with splashes of vivid color, and a wide cashier's counter in front of uniformed chefs at work, Nature's Express is setup like a fast food restaurant. But that's where the similarity ends. Well, that and the Air Baked Fries.
There's a wide selection of appetizers, salads, wraps, breakfast burritos (served all day), soup, burgers, even dessert— amazingly, all vegan.
I couldn't resist the Air-Baked Sweet Potato Fries, which are soft and delicious, almost chewy.
The first entree I tried was The Patrick-Goudreau, essentially a tofu scramble with veggies in a green tortilla wrap. It was really good, healthy tasting, not too large, and I'd certainly order it again. For $5.25, it's a great deal! The burrito is named after local vegan chef, teacher, blogger, and cookbook author, Colleen Patrick-Goudreau [CompassionateCooks.com] Several of her cookbooks line the shelfs along the side of the store, giving you something to flip through while you wait for your food.
I asked, and found out that Ms. Patrick-Goudreau isn't associated with the place. The burrito name is an homage, like The Alicia (Silverstone), The Moby, The Stella (McCartney, I guess), and The (Albert) Einstein. Ms. Silverstone's book The Kind Diet is also available for sale.
Tonight I tried The Moby, a spicy, and fresh tasting burrito with potato, cilantro, black beans, guacamole, green chili, and salsa.
Nature's Express is cheap, healthy, and fresh, and I'm happy to have it in my neighborhood. I hope they do really well!
2/27/2010 Update—I went back this week and they had changed their menu. Despite my best attempts to edify the public with this blog, no one got the references in the breakfast burrito names. Now the Stella is the Stellar. The Moby has had a makeover, and now comes with Sriracha sauce, but it's still delicious. The Patrick-Goudreau now has a new name, The Kick Start.
Author: Kathryn | No Comments
Categories: Berkeley & Albany | Tags: Tags: Berkeley, raw, rawfood, ShattuckAve, Vegan, Vegetarian
When I first heard about this place opening in San Francisco in about 2003, I laughed at the concept: a healthfood restaurant that compels you to utter affirmations? No thanks.
Now, by 2010, I eat at the Berkeley Café Gratitude on a regular basis, and I love it. Café Gratitude exclusively serves food that is raw, vegan, and organic. The entrees are in fact listed as positive declarations: for example, I AM ELATED is a vegan quesadilla (the cheese is made from ground nuts) and I AM GIVING is an Asian kale salad.
My favorite dishes are the grain bowls, in particular I AM WHOLE and I AM ACCEPTING. The first involves sea veggies, carrots, roast almonds and kale over a choice of red Bhutanese rice or quinoa. The second also comes with an offering red rice or quinoa, topped with avocado, seaweed, and nuts. I get either of these with both grains, half-and-half. They are both delicious and nourishing.
Café Gratitude's atmosphere is crunchy in the extreme: the waitpeople are kind and often dreadlocked, and the low grind of the juicer at work forms the background noise. Its red-brick walls make it cozy and warm. There are sofas, a bar in front, and outdoor seating on the sidewalk.
The food here is not cheap, so rather than raise prices infinitely, they started offering half portions, which is what I go for (it's plenty of food).
I recommend this place to anyone—it's great for vegetarians, not to mention a quintessential Bay Area experience.
Warning to people with nut allergies: for you, every entree may be I AM IN ANAPHALACTIC SHOCK. So be careful, lots of dishes involve nuts.
Author: Ken | No Comments
Categories: Berkeley & Albany | Tags: Tags: Berkeley, GourmetGhetto, Japanese, ShattuckAve, Vegan, Vegetarian
1686 Shattuck Avenue
Between Lincoln and Virginia
Berkeley, CA 94709
Cha-Ya.blogspot.com
(510) 981-1213
Cha-Ya is my favorite restaurant in all of Berkeley. A small (20 seat) strictly vegan Japanese kaiseki ryori restaurant in the Gourmet Ghetto. Kaiseki cuisine is an edible art form largely unknown outside of Japan, and most-closely associated with Kyoto. Take me there for my birthday, or any day; I never need an excuse to go.
A vegan meal at Cha Ya consists of many small plates, and there's a huge variety of dishes and food styles to mix and match. Weekly specials are posted on the wall. You can probably go ten times and never order the same thing twice. It can be overwhelming on your first visit if you're not familiar with the food. Here's a little orientation, based on what I usually order.
Among the soups I've tried, I prefer the Dobin Mushi, a "pot soup," with all kinds of delicious veggies and mushrooms. Once you pour off and finish the broth (like tea), you can dive into the pot and eat the veggies. The salads are all incredibly fresh, and come with seasoned hijiki (seaweed), ginkgo seeds, tofu, greens, and sometimes persimmon.
There are a number of small dishes (Kozara) that I love, but my hands down favorite is the Gyoza (vegan pot stickers). Served with gyoza dipping sauce, they're warm and melt in your mouth as the steam rises from your first bite. They's sweet and chewy and really a treat. I also recommend the simple and delicious Robata Yaki (which is served as pair of skewers with grilled vegetables, mushroom, and tofu, glazed with a sweet plum sauce).
Cha-Ya has a very wide variety of al la carte veggie rolls: both hosomaki (nori seaweed on the outside), and nigiri vegetables on top of the rice, strapped on with a little nori belt. Among the hosomaki, don't miss the Kampyo, seasoned gourd. It doesn't sound impressive, but it has a mouth-watering, sweet, slightly vinegar taste. With the Nigiri I really love the way they do the eggplant. Seasoned perfectly, the eggplant is soft and delicious.
There are some special rolls that are particularly decadent. The Cha-Ya Roll is my guilty pleasure: tempura sushi filled with avocado, yam, and carrots, the entire roll is lightly battered and deep-fried, served with a special house sauce. It's amazing.
On a cold night, there are noodle soups, and on hot nights, you can order cold noodles, like Zaru soba.
The menu contains six or so Combination Dinner Sets, which come with a bowl of miso soup and a small salad, in addition to an entree. The combos are probably a great deal, but I can never wrap my mind around how they're organized or what I should choose. If you're already ordering an entree that's part of the specials, it makes sense to see if the specials work for you.
I've just scratched the surface, but I would be remiss if I didn't mention that they have a number of vegan desserts. The Vegan (chocolate) Cake is usually excellent, but the Vegan Ice Cream Sundae is the real prize winner, with both azuki beans, and green tea sauce.
The menu features many kinds of fine teas, and a range of sake (hot or cold), including Sho Chiku Bai Sake from Takara, made in Berkeley!
The place is small and popular, so if you get there too late, you might be standing in the cold for a while waiting for a table. Be forewarned.
Author: Kathryn | No Comments
Categories: Near and Far | Tags: Tags: Mendocino, StanfordInn, Vegan, Vegetarian
Sea Palm Strudel
I couldn't resist ordering this—I've picked up sea palm on the beach, long, brown squishy trunks with tendril-like leaves, and I couldn't resist the curiosity of it. I also like all sea-vegetables, and they aren't something I prepare at home.
I wasn't disappointed: the sea palm came wrapped in a pastry type breading, with a side of sauteed veggies. I actually liked the sea palm more than the pastry–I'm not s fan of bready type food for dinner and  would have preferred a grain, but I thoroughly enjoyed the meal and would order it again, just for the novelty.
We also had an appetizer of XX which vanished in moments of arriving at the table. The bread is also excellent here and it's possible to become quite full before dinner even arrives, which makes packing in dessert even that much more intensive.
Good thing we were staying right at the Stanford Inn–just kind of waddle home.
Mushroom with Creamy Polenta
This was my favorite meal at the The Ravens—it looks simple as the plate arrives, but the flavor of the mushrooms was phenomenal, and the polenta was perfect. All the side veggies must have come from their garden–in any case, the produce was amazingly fresh and I had to pace myself and enjoy this.
It's such a pleasure to go into a restaurant and have so many options. The Ravens isn't cheap, but as a vegetarian, it's a real luxury to have so much choice.
Daily Omelet
I've gone long spells being vegan but I'm currently eating eggs for the protein value (also, okay, I really like them!). I had this omelet both days and again I was struck by the freshness of the ingredients.
Dessert Tasting at the Stanford Inn
I have only only one word: YUM. I was pretty adamant on day 2 that we get back to the lodge in time for the afternoon offering. I had the gluten-free fudge both days. This is SERIOUS stuff.