Search Results:
---
Author: Ken | No Comments
Categories: Near and Far | Tags: Tags: alfresco, Ferraros, Italian, Maui, outdoor, sunset
Ferraro's
3900 Wailea Alanui
Wailea, HI 96753
www.fourseasons.com/maui/dining/ferraro_s_bar_e_ristorante/
(808) 874-8000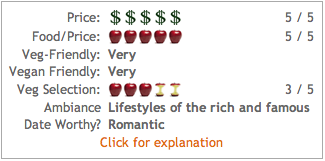 Ferraro's at the Four Seasons was simply off the charts. We made a special trip to dine at one of our favorite places, and it turned out to be the best meal of the trip.
The setting is relaxed and unhurried, outdoors alongside the pools of the Four Seasons and facing a sunset view over the Pacific, with the island of Khoolawe across the strait. Somehow, Ferraro's is sheltered from the strong afternoon winds that bear down on Wailea on summer afternoons.
The menu is Italian inspired and Maui-fresh ingredients infused. Vegetarian and vegan options are always available, and it's the kind of place that could likely accommodate any request. Everything took a while to come, so I had a chance to snap a few photos just for fun.
Kathryn dove into the ciabatta bread, which had a perfect crunchy crust—though she wouldn't know, since I'm the only one who eats them!
First came my tomato fennel soup. I'm sometimes wary of tomato soups being too acidic, or made with cream— this one was neither. A vegan soup smoothed and mellowed by fennel puree. I've never had a tomato soup I liked more.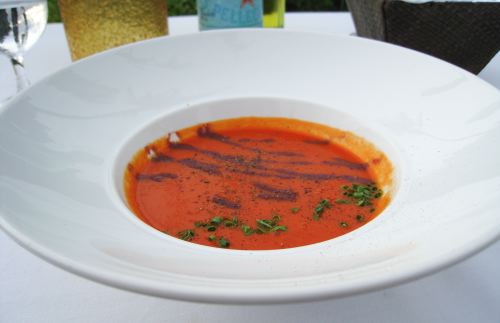 Tomato Fennel Soup
My main course was this quinoa spaghetti with pesto. The spaghetti was al dente with a flavor that shone through the light pesto. The tiny Kula tomatos were flavor bombs at the peak of ripeness.
Kathryn had this asparagus risotto with black truffles. When she ate her fill, I finished the rest. One word, Wow!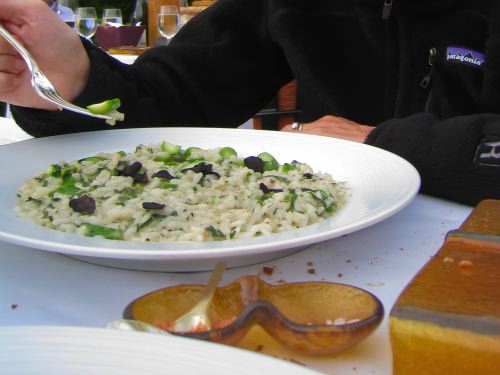 Asparagus Risotto with Black Truffles
With great restraint, we skipped dessert, but they had other plans. Since it was a wedding anniversary dinner for us, they brought us a special plate with a variety of small chocolate truffles. With the sun setting over the sea, it was the perfect way to end a perfect meal.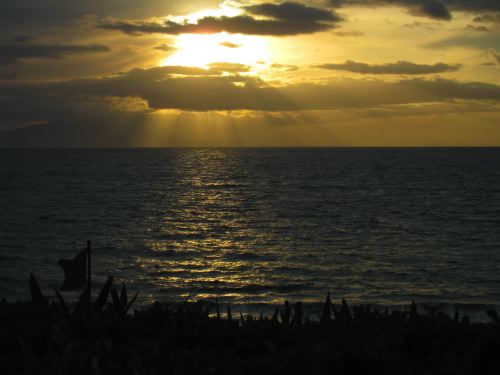 View from Ferraro's
Author: VegBlog Admin | No Comments
Categories: Near and Far | Tags: Tags: cafe, flatbread, GasLamp, gelato, Italian, pizza, SanDiego
Shraddha, the elegant and all-knowing concierge at the Westgate Hotel recommended a few places for us to try in the Gaslamp District, and they were all great. Chocolat was so good I went there three times in four days, twice for lunch and once for dinner.
From the name and the decor, you might mistakenly think that this is just a fancy ice cream shop. Yes, the gelato looks amazing, and that seems to be what most people get, but I came for the food. Chocolat makes a great, light, Italian-style flatbread pizza which they were happy to make vegan at my request. It was several months ago that I was there, but I remember well the perfectly tangy thin layer of tomato sauce and the roasted vegetables on top—like it was just this morning. We sat in one of the tables outside, to people-watch in the late afternoon. The pizza was served on a cutting block. The photo is of K's pizza (zucchini, asparagus, portobello, tomato sauce, & mozzerella.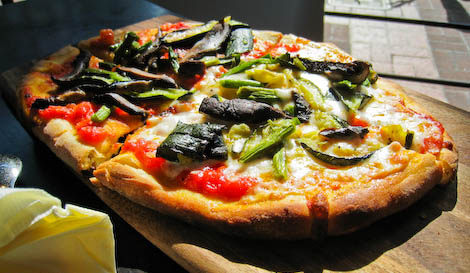 The next day, I came in at lunch and got a Grilled Panini. And the day after that, I brought some work colleagues there for lunch, but they were out of the pizza, so I had another kind of sandwich. It was small but totally delicious.
I'm not so much into the dessert end of the dining spectrum, but they have lots of special crepes, Pasta and all kinds of sweets.
Thank you, Chocolat, and thank you again, Shraddha.
Author: Kathryn | No Comments
Categories: Berkeley & Albany | Tags: Tags: Albany, CaliforniaCuisine, Italian, SolanoAve
1539 Solano Avenue
(between Neilson St & Peralta Ave)
Albany, CA 94707
RivoliRestaurant.com
(510) 526-2542
Liberty Duck Confit Cassoulet and Slow Braised Lamb Shoulder—these are the entrees that jump out from the Rivoli menu when you sit down to scour the list for a vegetarian option. Look for a vegan option and you will only read more about various fish and flat iron steak. If you are vegetarian-not-vegan, there might be a ravioli with dense cheese in butter sauce, or a wedding-type vegetarian food: something green or yellow packed into filo. Of course, you can always ask the waiter what can be done "off menu," and he will say he'll "ask the chef," as if your request is that outre.
The last time I went to Rivoli was with a birthday party. It turned out their reservation system was mostly an illusion. About ten of us stood crammed into a small bar area up front, where the smirking hostess assured us it would be "just a minute more," for the full forty minutes that we waited.
They do have an excellent wine menu, and I availed myself of that, in addition to bread. I know a lot of people love Rivoli, but as a vegetarian, the food was disappointing, and the service was lacking. The ravioli was of that giant, buttery variety, which tasted good in my mouth and instantly left me queasy. Ken got an "off menu" vegan entree that seemed to be white beans piled on spinach, splattered with pine nuts. I tasted it—not bad—but utterly unimpressive.
We've been to a number of high-end fancy restaurants in places like Maui that make fantastic off-menu vegetarian offerings. I'm sorry to say Rivoli isn't in that category. They seem more determined to turn the animal you once loved as a first grade classroom pet into something crispy on your plate. If that's your thing, and somehow you are reading this blog, then Rivoli is the place for you.
Everyone at our table was animated by the arrival of the signature mushroom fritters. I found them bland and oily, like something you'd regret ordering at a children's theme park.
Author: Ken | No Comments
Categories: Near and Far | Tags: Tags: CollegeAve, Italian, Oakland, Rockridge
5500 College Ave
(In Rockridge, between Forest St & Lawton Ave)
Oakland, CA 94618
PastaPomodoro.com
(510) 923-0900
Pasta Pomodoro is a convenient, reliable, chain of nice Italian restaurants with an excellent space and location on College Avenue in Oakland's Rockridge neighborhood. There's indoor seating at regular tables, high tables, and at the curved counter, where you can watch the chefs at work. Outdoor seating on the sunny patio has umbrellas for daytime, and heat lamps for Oakland's chilly dinner hour. It's a busy street, so you can sit there and enjoy watching the world go by.
The menu changes around a bit, and I like a lot of dishes here. There's a good vegetarian selection of soups, salads, and, of course, pasta. There's always a vegan minestrone soup, and the various pasta dishes are made to order, so you can customize. I always love a side of Italian white beans, which they sometimes offer.
It's almost impossible to resist the tasty, warm foccacia with olive oil and vinegar, that they bring to the table; practically the only way to stop eating it is to run out. (Run out of bread, that is, not run out of the restaurant, which we don't advise.) Pomodoro is one of the few places to offer (organic) Farro, which is a specialty grain from Italy.
Even though I'm very partial to small businesses, and generally avoid most chains, Pasta Pomodoro does what they do well, and sometimes a nice Capellini Pomodoro (angel's hair pasta with fresh tomatos) absolutely hits the spot.