Review by: Ken
City of 10,000 Buddhas
2001 Talmage Road
Ukiah, CA 95482
Jyun Kang
(707) 462-0939
A vegan restaurant in Ukiah? Don't act so surprised. Ukiah (actually Talmage, just east of town) is home to The City of Ten-Thousand Buddhas, which, according to Wikipedia, "is one of the first Chinese Zen Buddhist temples in the United States, and one of the largest Buddhist communities in the Western Hemisphere."
So we made a special trip on our way home from Mendocino this Winter. (Note that they're closed on Tuesdays, so we missed them on the trip up and ate there on the way back.)
At the end of Talmage Road, we entered the campus through a two-story, ornate yellow gate. We stopped at the administration building on the right to check-in and sign the guestbook.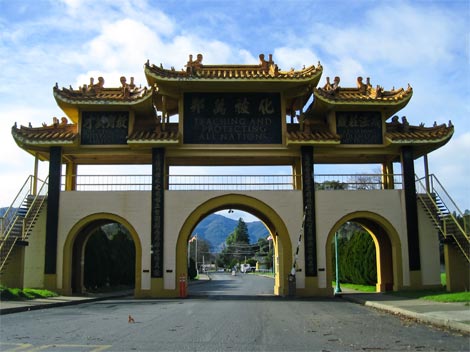 The restaurant is just a two blocks further, past some amazing murals and statues.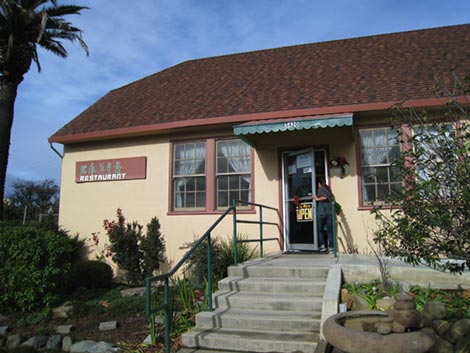 We arrived about 12:40, just before a big rush, and every table was soon full. They have about 50 different things on the menu, there's quite a selection—all vegan.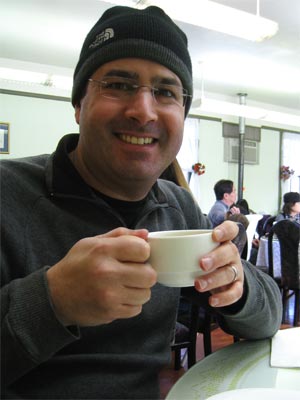 The tea came right away. I'm not an expert, but it tasted like a barley tea, similar to the Korean teas we've had. We decided to sample a few things and order more than we could eat in one sitting. We ended up with. . .
and
Actually the noodles took a long time to come. I think they forgot about us, until K prompted them for our order. They were very apologetic!
The Golden Tofu Seaweed Rollshad a great texture and a really strong seaweed taste. Unscientifically, it was twice as strong as an equivalent sushi roll. I liked it, but K found it a bit too fried for her taste. The carrots and crunchy sprouts were excellent in the plum sauce.
The Japanese Style Noodles were peppery and excellent. Again, I enjoyed this dish more than K did. All of the flavors were different than we're used to, and for me that made it more special. We have sort of a "split decision" on the food, but there were so many things on the menu that looked interesting, I would certainly try it again the next time I'm in Ukiah around lunchtime.