Search Results:
---
Author: Ken | No Comments
Categories: Near and Far | Tags: Tags: breakfast, cafe, HWY50, lunch, Placerville, smoothies
Cozmic Café & Pub
594 Main Street
Placerville, CA 95667

OurCoz.com
(530) 642-8481
Looking for a place to stop for lunch between Sacramento and South Lake Tahoe, Happy Cow helped us find the Cozmic Café & Pub in Placerville. What a great place!
We drove into town on a bright and shiny Saturday morning, and found a really happening downtown with a lively a.m. farmers market right across the street from The Cozmic. Nestled in a 1859 historic building with a gold-mine in the back (?!), The Cozmic cafe is a fun place for a veggie lunch with people-watching.
I ordered the Tofu Scramble, which was light and fluffy with mushrooms, and onions on a bed of spinach leaves, with a side of wheat toast and a Mixed Berry Smoothie.

K got the The Righteous Rice Bowl, with organic rice, organic balsamic beans, carrots, cabbage and cheese, under salsa and more with a few avocado wedges on top.
We loved our meal so much we stopped there again and had the same thing on the way home from Tahoe.
Author: VegBlog Admin | No Comments
Categories: Near and Far | Tags: Tags: cafe, flatbread, GasLamp, gelato, Italian, pizza, SanDiego
Shraddha, the elegant and all-knowing concierge at the Westgate Hotel recommended a few places for us to try in the Gaslamp District, and they were all great. Chocolat was so good I went there three times in four days, twice for lunch and once for dinner.
From the name and the decor, you might mistakenly think that this is just a fancy ice cream shop. Yes, the gelato looks amazing, and that seems to be what most people get, but I came for the food. Chocolat makes a great, light, Italian-style flatbread pizza which they were happy to make vegan at my request. It was several months ago that I was there, but I remember well the perfectly tangy thin layer of tomato sauce and the roasted vegetables on top—like it was just this morning. We sat in one of the tables outside, to people-watch in the late afternoon. The pizza was served on a cutting block. The photo is of K's pizza (zucchini, asparagus, portobello, tomato sauce, & mozzerella.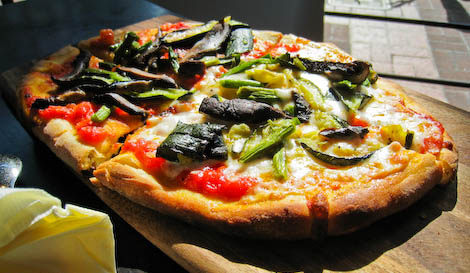 The next day, I came in at lunch and got a Grilled Panini. And the day after that, I brought some work colleagues there for lunch, but they were out of the pizza, so I had another kind of sandwich. It was small but totally delicious.
I'm not so much into the dessert end of the dining spectrum, but they have lots of special crepes, Pasta and all kinds of sweets.
Thank you, Chocolat, and thank you again, Shraddha.