Review by: Ken
Ferraro's
3900 Wailea Alanui
Wailea, HI 96753
www.fourseasons.com/maui/dining/ferraro_s_bar_e_ristorante/
(808) 874-8000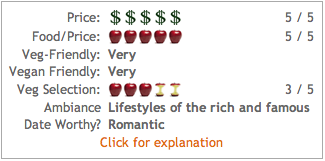 Ferraro's at the Four Seasons was simply off the charts. We made a special trip to dine at one of our favorite places, and it turned out to be the best meal of the trip.
The setting is relaxed and unhurried, outdoors alongside the pools of the Four Seasons and facing a sunset view over the Pacific, with the island of Khoolawe across the strait. Somehow, Ferraro's is sheltered from the strong afternoon winds that bear down on Wailea on summer afternoons.
The menu is Italian inspired and Maui-fresh ingredients infused. Vegetarian and vegan options are always available, and it's the kind of place that could likely accommodate any request. Everything took a while to come, so I had a chance to snap a few photos just for fun.
Kathryn dove into the ciabatta bread, which had a perfect crunchy crust—though she wouldn't know, since I'm the only one who eats them!
First came my tomato fennel soup. I'm sometimes wary of tomato soups being too acidic, or made with cream— this one was neither. A vegan soup smoothed and mellowed by fennel puree. I've never had a tomato soup I liked more.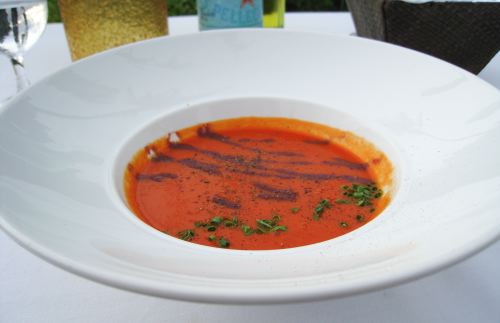 Tomato Fennel Soup
My main course was this quinoa spaghetti with pesto. The spaghetti was al dente with a flavor that shone through the light pesto. The tiny Kula tomatos were flavor bombs at the peak of ripeness.
Kathryn had this asparagus risotto with black truffles. When she ate her fill, I finished the rest. One word, Wow!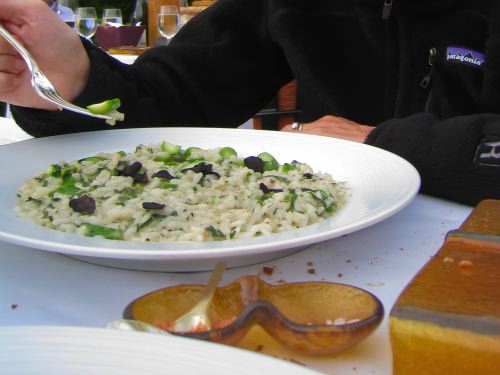 Asparagus Risotto with Black Truffles
With great restraint, we skipped dessert, but they had other plans. Since it was a wedding anniversary dinner for us, they brought us a special plate with a variety of small chocolate truffles. With the sun setting over the sea, it was the perfect way to end a perfect meal.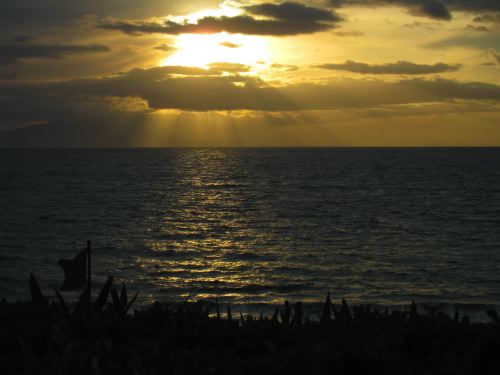 View from Ferraro's